Capital Area Michigan Works! is a network of resources for employers and career seekers. We partner with businesses to develop recruiting and retention strategies, and we partner with job seekers to enhance education and career opportunities.
Capital Area Michigan Works! is a proud partner of the American Job Center network. Our three American Job Centers in Charlotte, Lansing and St. Johns provide mid-Michigan employers and career seekers with the best resources to fulfill their employment needs.
Annual Reports
The Capital Area Michigan Works! American Job Centers help both employers and career seekers thrive. Whether in the board room or in one of our American Job Centers, our team is working toward the betterment of the region, state and beyond.
Learn more about our collaboration with statewide partners, and how we've helped meet the demand for talent throughout the last few years.
Strategic Plan 2018-2021
Catalyst Report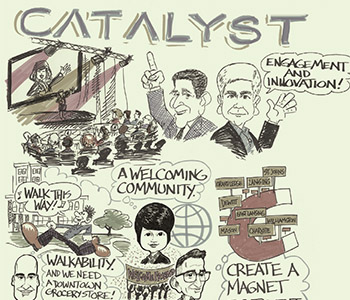 In September 2013, Tri-County Regional Planning Commission (TCRPC) convened a team of regional leaders, including representatives of Lansing Community College (LCC), Michigan State University (MSU), Lansing Regional Chamber of Commerce (LRCC), Lansing Economic Area Partnership (LEAP) and Capital Area Michigan Works (CAMW). The partnership resulted in a clear roadmap to economic growth in greater Lansing to ensure the future health of the economy.
To learn more about the partnership, download the Catalyst Report.
Policy Documents